We who know Ed Carriere, have always seen him as a treasured teacher and an encyclopedia of traditional ecological knowledge. But now he will truly be honored as a 2023 National Heritage Fellowship Recipient!
For immediate release: Tuesday, February 28, 2023, 10:00 am ET
Contact: Allison Hill, hilla@arts.gov, 202-682-5037
National Endowment for the Arts Announces
2023 NEA National Heritage Fellows
Lifetime Honorific Celebrates Artists and Culture Bearers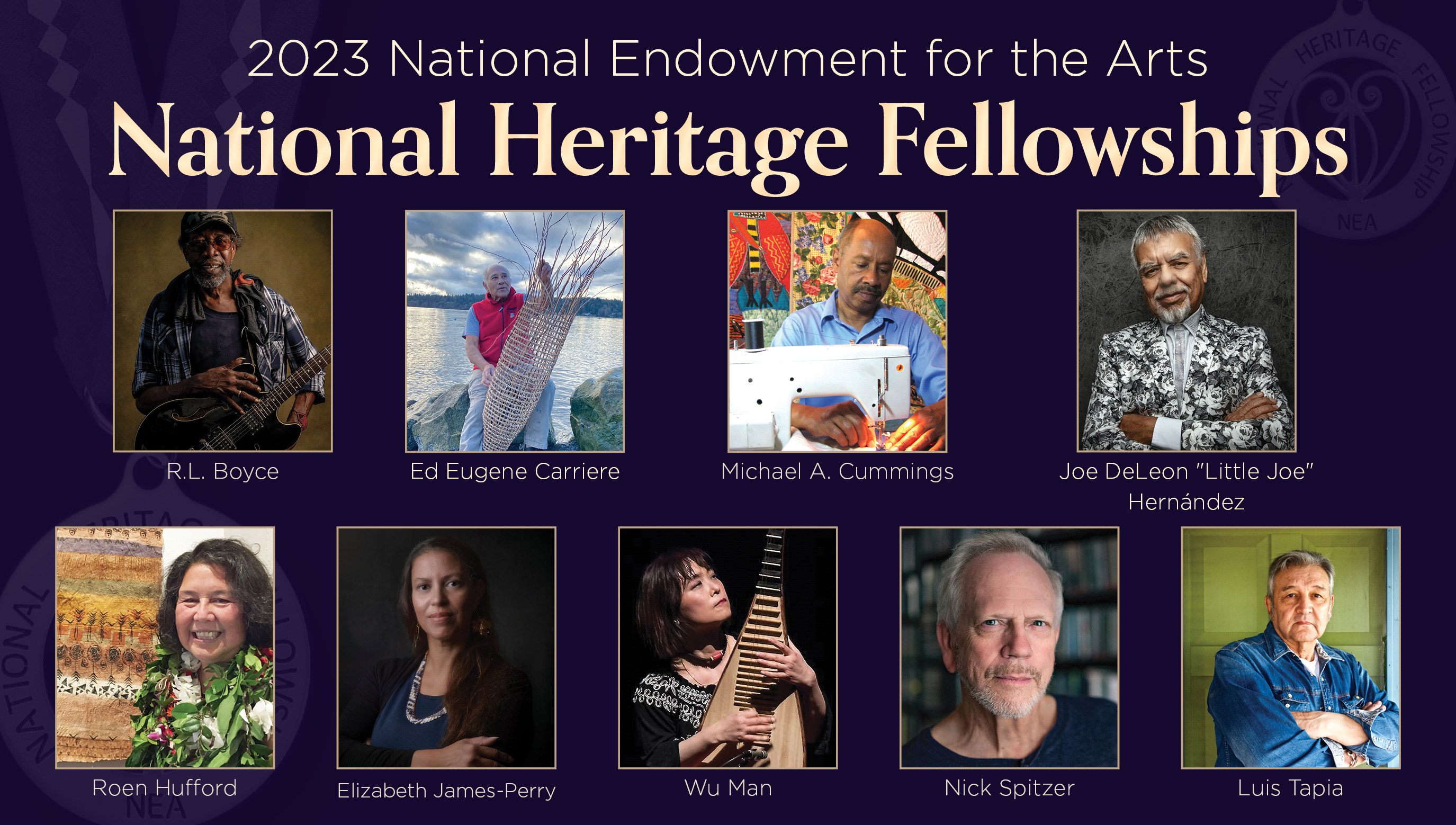 Washington, DC—The National Endowment for the Arts (NEA) is pleased to announce this year's NEA National Heritage Fellows, recipients of our nation's highest honor in the folk and traditional arts. For more than 40 years, the NEA has annually presented these lifetime honors in recognition of the diverse cultural traditions that comprise our nation and the individuals whose dedication and artistry contribute to their preservation and growth. Each fellowship includes a $25,000 award. Details will be released in the future about an event to honor the 2023 fellows.
"The 2023 National Heritage Fellows exemplify what it means to live an artful life," said NEA Chair Maria Rosario Jackson, PhD. "Their rich and diverse art forms connect us to the past, strengthen our communities today, and give hope to future generations in ways that only the arts can. Our nation is strengthened through their meaningful practices, expressions, and preservation of traditional artistry."
The 2023 NEA National Heritage Fellows are:
R.L. Boyce, Hill Country Blues Musician from Como, Mississippi
Boyce was born into the African American fife and drum tradition and grew up playing with and learning from many great musicians. His North Mississippi blues approach to playing and song structures are rooted in past traditions, yet his music is uniquely contemporary.
Ed Eugene Carriere (Suquamish), Suquamish Basketmaker from Indianola, Washington
Carriere learned the art of basketmaking from his great-grandmother and has researched and replicated styles of Suquamish basketmaking dating back as many as 4,500 years. The clam-gathering baskets he creates are used to help others learn about the deep-rooted cultural and arts heritage of the Salish Sea and peoples.
Michael A. Cummings, African American Quilter from New York, New York
In the tradition of the African griot (storyteller), Cummings' quilts tell the stories of African American life, incorporating historical, cultural, and philosophical themes into the vibrant colors, patchwork, and hand embroidery of his quilts.
Joe DeLeon "Little Joe" Hernández, Tejano Music Performer from Temple, Texas
Hernández has helped pioneer Tejano music, becoming one of the most prominent figures in the tradition today with more than 70 albums and five Grammy Awards, with his band, Little Joe y La Familia.
Roen Hufford, Kapa Maker from Waimea, Hawaiʻi
Hufford carries on the labor-intensive traditional art of ka hana kapa (making barkcloth) with designs inspired by the richness of her Hawaiian environment and is a leading figure in the reclaiming of this nearly lost art.
Elizabeth James-Perry (Wampanoag Tribe of Gay Head, Aquinnah), Wampum & Fiber Artist from Dartmouth, Massachusetts
James-Perry combines careful preparation of natural materials, exquisite skill, and beauty of form with historical research and family knowledge to create a body of work that is revitalizing Eastern Woodlands/Algonquian traditional arts, including hand-sculpted wampum beads, soft fiber basketry, and ancient forms of woven wampum.
Luis Tapia, Santero from Santa Fe, New Mexico
For nearly five decades, Tapia has helped to revitalize and transform the art of the santero (saint-maker)—a centuries-old Hispanic tradition practiced in New Mexico and southern Colorado—through efforts such as reintroducing color and crafting social critiques into his modern-day santos (saints).
Wu Man, Pipa Player from Carlsbad, California
Wu Man's vivid brilliance, commanding personality, and range of expression has redefined the pipa—a centuries-old, pear-shaped, four-stringed Chinese lute—bringing it to new audiences both in the United States and the wider world of music.
Nick Spitzer, Folklife Presenter, Educator, and Radio Producer from New Orleans, Louisiana
Spitzer's whole life has been spent documenting, broadcasting, and writing about the vitality and innovation of American culture—the local, the non-official, the folkloric, and the vernacular.
Spitzer is the 2023 recipient of the Bess Lomax Hawes National Heritage Fellowship, presented in recognition of an individual who has made a significant contribution to the preservation and awareness of cultural heritage.
About the National Heritage Fellowships
The National Heritage Fellowships are the nation's highest honor in the folk and traditional arts. Including the 2023 class, the Arts Endowment has awarded 477 National Heritage Fellowships since 1982, recognizing artists working in more than 200 distinct art forms, including bluegrass fiddler Michael Cleveland, Japanese classical dancer Gertrude Yukie Tsutsumi, Haudenosaunee raised beadworker Karen Ann Hoffman (Oneida Nation of Wisconsin), oud player and composer Rahim AlHaj, and radio producer and radio network builder Hugo N. Morales. More information about the National Heritage Fellows is available on the Arts Endowment's website.
Fellowship recipients are nominated by the public, often by members of their own communities, and then judged by a panel of experts in the folk and traditional arts. The panel's recommendations are reviewed by the National Council on the Arts, which sends its recommendations to the chair of the NEA, who makes the final decision. Visit the National Endowment for the Arts website for more information.
About the National Endowment for the Arts
Established by Congress in 1965, the National Endowment for the Arts is the independent federal agency whose funding and support gives Americans the opportunity to participate in the arts, exercise their imaginations, and develop their creative capacities. Through partnerships with state arts agencies, local leaders, other federal agencies, and the philanthropic sector, the Arts Endowment supports arts learning, affirms and celebrates America's rich and diverse cultural heritage, and extends its work to promote equal access to the arts in every community across America. To learn more, visit arts.gov or follow us on Twitter, Facebook, Instagram, and YouTube.
RELATED CONTENT:
Roots of American Culture—A Cross-Country Visit with Living Treasures of the Folk and Traditional Arts (film about the 2022 NEA National Heritage Fellows)
List of All NEA National Heritage Fellows